It's the Royal Rumble – one of the best pay-per-views of the year, and 2014 is destined to be one of the most exciting in recent memory! Why? HAVE YOU SEEN THE FUCKING CARD! It's stacked with quality matches! Not only is the Royal Rumble match destined to be exciting as always, the rest of the card looks just as epic. But, who will win? Well I have a few guesses for what looks like will be a very unpredictable PPV.
Tag Team Championship Kickoff Match
The Rhodes Brothers vs. The New Age Outlaws
First off, it's awesome that we get this match for free. Secondly, the brothers have had the belt for a long time, I think too long. At this rate, it's time to hand the belts over, if for no other reason than to further storylines. A loss for the Rhodes Brothers will hopefully cause Goldust to turn heel and feud with Cody at WrestleMania 30 as well as cause the Authority to control even more Championship gold. There is simply much more you can do plot-wise with The Rhodes Brothers NOT being the champs.
Winners –The New Age Outlaws
Daniel Bryan vs. Bray Wyatt
Let's just say I marked the fuck out when Daniel Bryan defied Bray Wyatt and ascended to the top of the steel cage as the WWE universe chanted YES! But, it's time to end this fucking feud. Let Bryan get his final retribution on Bray Wyatt. Make it clean, and make it brutal. Quiet frankly, I think creative has less of an idea what to do with the Wyatts than I do. There's so much potential, but with Bryan, it is not.
Winner – Daniel Bryan
Big Show vs. Brock Lesnar
Now this here is obvious, Brock Lesnar will clearly win. Yes, I know he's been getting jobbed to shit by Big Show recently but you can't have Brock lose and then have him compete for the WWE World Heavyweight Championship. Because that is totally happening at Elimination Chamber, which begs the question; how the fuck are they going to do that when Brock is apparently getting a shot at the belt when there is supposed to be 4 other dudes in there too? Like how the hell are they going to do the chamber with only 1 big Championship? Maybe they'll fuck us over and do a Divas Elimination Chamber. Now that would be so Buried! shit. Back to Brock, who the fuck would even want to watch him face Randy Orton or whoever is holding the belt by then if he loses to Baby New Year? I predict Brock to win, but no matter what, WWE creative is Buried! for trying to convince people Big Show is a badass after he was Baby Fucking New Year.
Winner – Brock Lesnar
Buried!
The Royal Rumble
This one is tough. For one, I hate the WWE for trying to tell us that "anyone can win the Royal Rumble." Sure there's 30 men in it, but each year there's about five people you can put your money on. However all the chips are on the table for the recently returned Batista. Apparently the plans are to have him win and face Orton at WrestleMania. But fuck the rumors, I don't believe the dirt sheets because creative changes all the damn time. If Batista would win, he would have great chemistry/ history with whoever he is facing at WrestleMania 30, whether if be Orton or Cena. With that said, I would LIKE to have CM Punk win the Rumble, but I know the Authority is going to deny him glory, which is going to set up the obvious Kane vs. CM Punk match at Chamber which will lead to the CM Punk vs. HHH rematch. Fuck it, Sting to enter as the 30th man and challenge Undertaker at WrestleMania, making the WWE title picture a lot less confusing to figure out.
Winner- Sting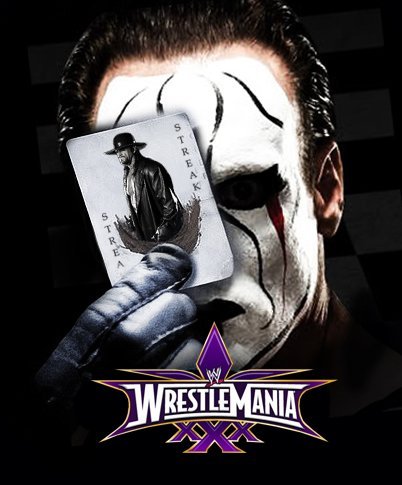 Image Source: eWrestling News
WWE World Heavyweight Championship match
Randy Orton vs. John Cena
I'm most likely going to get this one wrong, but I predict Cena to go over. After all the shit Randy has pulled, I would find it insane if the Authority would allow Randy Orton to win. Once again, it's unpredictable, WHICH IS GOOD! I don't want to know who's going to win, unlike a lot of the past several PPV's. The only problem is, where do these two men go after this feud? We know the winner will go on to face Brock Lesnar and then Batista or (Generic Royal Rumble Winner here), but what about the loser of the feud? The Wyatts for Cena? Possible. Face Roman Reigns vs. Randy Orton for the new face of the company? Perhaps.  Either way, it doesn't really matter which man wins, because we're most likely forced to see Pitbull, excuse me, Batista, main event WrestleMania.
Losers – The WWE Universe
Buried!
Related articles