Bring tables, bring ladders, and bring chairs! Those were the famous words from The Shield in 2012. But one year ladder (get it?!), The Shield is close to destruction due to CM Punk. CM Punk beat all three men thanks to the help of Roman Reigns, who accidentally speared Ambrose. The Shield was already showing signs of breaking up before this, but this defeat certainly didn't help the group. After the group breaks apart, I predict Ambrose to continue to be his cocky self, Reigns to turn face, and Seth Rollins…to fade into obscurity. Seriously, what does he really do for the trio? Granted, he's still a great wrestler and one of my favorites on the roster, but what the fuck is his gimmick? For that, he is…
Buried!
AJ Lee is Still Crazy
So I'm shocked that AJ is still Divas Champion. Due to a backstage incident where she almost killed Michele Beadle, I cant believe the WWE let her keep the strap. The situation, based on my personal eye-witness testimony, was that Beadle was stroking CM Punk's mutton chops and AJ flipped her shit. For those who are uncultured as fuck, Punk and Lee are dating in real life and apparently Lee is actually A LOT like her WWE persona. AJ is buried, not because she's a jealous trick, but because SHE'S FUCKING DATING CM PUNK! You expect CM Punk, the biggest man whore in the WWE since Edge to NOT fuck around? You expected The Best in the World to stay committed!? They don't call him the best for nothing! AJ, run before you get your heart broken or get…
Buried!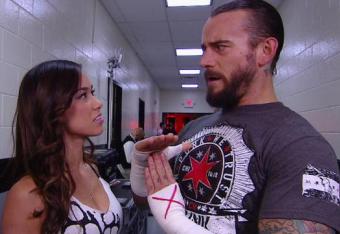 Tag Team Title Picture
I like the Rhodes', really I do, but fuck em'. The tag title picture and the teams in the hunt for the belt are just the leftover scraps of a bunch of shitty storylines that didn't work out. Need proof? Well here we go.
-The Rhodes' have the belt because they beat The Shield while both teams were involved with The Authority. The Shield have since moved on to greener pastures and the Rhodes' just have the belt and wrestle on RAW each week…no real storyline behind it.
-The Real Americans (my favorite group besides The Shield) had a short-lived feud with Los Matadores, but even WWE Creative knew that sucked after a month. No me gusta el Torrito. Es muy aburido todos los dias. Forgive my broken Spanish 101 but fuck him. It's good the Americans got out of that feud, they were too good for it anyway. Hell, even the WWE Universe loves them, as they got a big "WE THE PEOPLE" chant during the match.
-Ryback and Curtis Axel, after being abandoned by Paul Heyman, have been chilling in limbo. Ryback is in the proverbial doghouse for doing god knows what and Curtis Axel makes Alberto Del Rio look like the fucking Rock in terms of charisma. So what do these two jobbers do without a CM Punk to feud with or a Heyman to follow, fucking get Buried in the tag match. They were eliminated first after all.
-Rey Mysterio and The Big Show teamed up…because one's tiny and one's big…fucking hilarious. Show did have a decent feud with The Authority and it kind of went the way of Bo Dallas. No one knows and even less care.
Overall the match itself was good, despite ending with two face teams duking it out, and proved the tag division isn't completely fucked.
WWE Unified Universal Glorified Undisputed Champion of Excellence Match
This is where I go h.a.m. in the Buried! category because what the fuck! This match was good, let's not get ahead of ourselves. And the clear and definitive winner of Randy Orton was perfect. After Cena delivered his god-tier promo last Monday, Orton would have simply seemed like a bitch to lose. While Orton used some semi-dirty tricks to win, he most certainly won relatively clean. It made Orton look powerful like the viper we all know and loathe. What I'm pissed about is that TLC, like all of WWE's pay-per-views, barely featured any of the aforementioned items. And no, Wyatt's fucking rocking chair doesn't count.
WWE has been doing this a lot recently. Instead of having a few matches based on the theme, we get one. Elimination Chamber and more recently, Hell in a Cell this year are guilty of this. Pay cold hard money…for rematches that will be on RAW the next day…and a single gimmick match. How the fuck does the WWE really expect people to pay $40 for a single match? Let us compare it to TLC of 2012 where we got not one gimmick match, but three! A table match, a ladder match, and a TLC match. Or what about 2011 a/k/a one of the best PPV's in the past few years? We had a sledge-hammer ladder match featuring Kevin fucking Nash, a tables match, a chairs match, another tables match AND a triple threat TLC match where CM Punk became champ. What the fuck happened!!!! WWE, fuck you and your PPV's that are now one pump chumps instead of a full ride.
Buried!