Buried! is a comedic look at the world of WWE and professional wrestling through the eyes of kayfabe.
*Despite being comedic, Buried! makes no claims to be funny. 
After what seemed to be an endless stream of great WWE programming, we were treated to one of the most "meh" weeks of wrestling in recent memory. It's like WWE saw Brock Lesnar was fighting Mark Henry at UFC 200 and said: "We gettin' that UFC money, who needs to write a script". That's not to give credit to the alleged "writers" that the WWE employs, but this week felt especially lazy.
The WWE Women's Championship
There is something ironic about the WWE having a Women's Revolution that features a Women's Champion who has never won a match without outside help. There is also something ironic about having a Women's Champion who has the mic skills of a broom. Her promo on her father and her subsequent and forced apology towards him had shades of  "I wish you died in the womb". Some people criticize Roman Reigns for being too scripted and not being able to work the crowd, but Charlotte not only didn't work the crowd, she flat out sent the crowd to unemployment. Nikki Bella got criticized for being a terrible champion and wrestler, but she is leaps and bounds better than Charlotte in every way. Nikki actually looked dominant, as she won many matches on her own. Charlotte simply looks like a joke.
Buried!
Sheamus
After making a cameo in Casey Jones the Movie: Featuring the Ninja Turtles, Sheamus is playing up being a "movie star". I'm hoping this leads to a stable of wrestlers who thinks they are A-List Celebrities. Hollywood Sheamus with Hollywood Miz and the Hollywood Social Outcasts doing Hollywood things in Hollywood Stanford Connecticut.
The Brand Split
Perhaps the greatest thing to ever happen in the WWE, it begs the question of what happens to the Tag Team titles and the Women's Championship. It's easy to introduce a new World Title to Smackdown and move the IC Title or US Title to the show, but the roster isn't big enough for new Tag Titles and a new Women's belt. My assumption would be that these belts stay on both shows OR the Tag Teams move to Smackdown. Because let's be honest, the New Day exclusively being on Smackdown is a much bigger selling point than the idea of Charlotte shrieking in front of a crowd yelling "WHAT".
Buried! Again.
Make Darren Young Great Again…
…are the greatest vignettes in WWE history. They are so bad they are good. I'm talking Johnny Ace bad. I'm talking No Way Jose bad. I'm talking Vickie Guerrero in Playboy bad. I have it on good authority that Darren Young is essentially going to become Bob Backlund II. He allegedly will soon go by the name, Darren Backlund, in honor of his fallen mentor after Alberto Del Rio runs him (and Charlotte) over with his car on Christmas. Speaking of Alberto Del Rio, why is he in the Money in the Bank match?
Buried!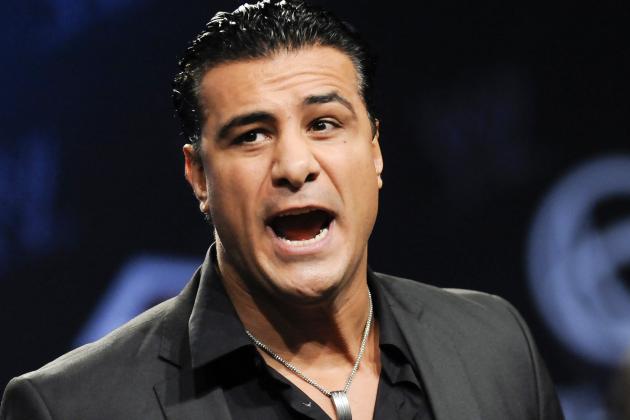 Chris Jericho
Is a phony. Buried Exclusive.
NXT Takeover: The End
This special was appropriately titled as I couldn't wait for it to be over. A special filled with a couple of rematches, a lackluster debut, an obvious outcome, a snore of a "dream match", and a feud that went on for way too long, NXT: Takeover The End either signaled a new beginning for the brand, or a sign that its best days are behind it. I blame Full Sail. They will cheer for anyone, even someone who dresses like this!
Buried!
He's out there looking like the new millennium Godfather when his video package made him look like tortured ex-luchador who abandoned his past. I was so excited to see his debut, but the execution was so unremarkable, that the crowd and I were cheering more for "The Perfect Ten" Tye Dillinger, than Andrade.
But the crowds reaction means nothing, as they were chanting "This is awesome" to a match as boring as Austin Aries and Shinsuke Nakamura. I get it, these two are amazing wrestlers, but just because they are good, doesn't mean we have to automatically praise them just because they stepped foot in the ring. I don't get it, I heard praises that Austin Aries is truly one of the best wrestlers in the world, but he's done nothing to impress me. Especially after Baron Corbin had to carry Aries through his debut match, he seems to be far from the greatest man who ever lived. The rest of the card was meh, with the tag match stealing the show. Nice to see Dash and Dawson take a break from RAW and The Bullet Club to take back their tag titles. It makes you wonder, will AJ Styles comment on his boys winning the belts, and will the titles be spotted on RAW? Moral of the story, Austin Aries is the lamest man who ever lived.
Buried!