WrestleMania 33 was the greatest wrestling event that I have ever watched. It was over five hours of payoff. It was WWE at it's best and near flawless. Quark has nothing to say about it…but Buried Boy Quark thinks WrestleMania 33 is Buried….
The only way to celebrate the fifth year anniversary of Buried! is to bury WrestleMania 33. WrestleMania 33 wasn't just bad, it was just downright disrespectful. I haven't seen such a phoned-in performance since I saw John Cena vs. The Rock II. Ladies and gentlemen, strap in because the "ultimate thrill ride" was more the final destination than anything else. This is BuriedMania V, where WrestleMania 33 is Buried!
10. Andre The Giant Memorial Battle Royal
The biggest middle finger of WrestleMania 33 came from this match. The SmackDown tag titles get the dubious honor of being the least important WWE title that has ever been created. It's almost impressive that you can be a champion in the company, yet somehow not even make it on the fucking preshow. You're telling me that the VaudeVillains can get into the Andre The Giant Memorial Battle Royal, but not the Usos?
Maybe it's good they weren't in this match, as not ONE person came out of this match looking good. Strowman? Eliminated in minutes. Mark Henry? Forgot he was there. Tatanka? Couldn't even show up. Unbelievable. Hell, even Mojo Rawley, the winner, looked like a punk because he couldn't even win the match without some dude named Gronk. Gronk is apparently a player for the New England Patriots. The Patriots are a team in the NFL, another brand of sports entertainment. Rumor has it that the WWE is raiding the NFL roster, but that's neither here nor there.
Buried!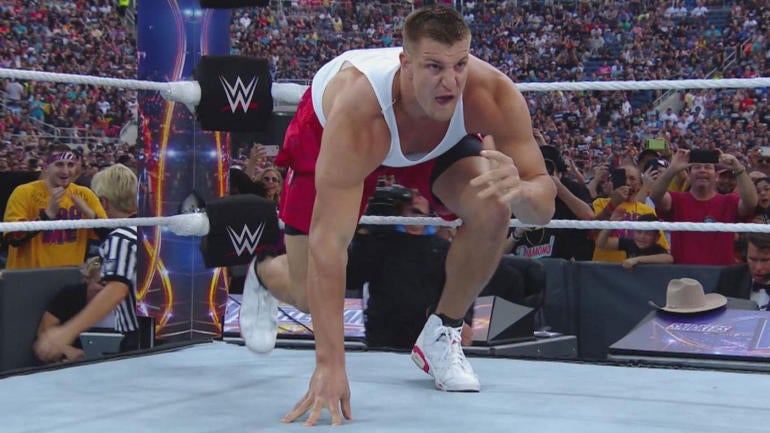 9. IC Title Match on the Pre-Show
Baron Corbin isn't paid by the hour, and neither is he paid on the main show. I admit it, I'm a Baron Corbin mark, so I was hoping my boy would win on the main pay-per-view and take the IC title from Dean Ambrose. I was also hoping it would be a hardcore no-DQ match that would have them fighting all over the arena. For such a gorgeous venue, we deserved to see the climax of their war take place on top of the WrestleMania 33 rollercoaster.
Buried!
8.The Harvey Boys
Because that's what we needed, the Harvey Boys, who are pushing 40, to steal the spotlight from the other RAW tag teams. After years of stalling, we deserve to see Enzo Amore hoist the titles above his head while riding on Big Cass' shoulders. I just don't see the appeal of Matt and Jeff. They've been gone for 7 years and are now slashing their arm and yelling delete? Is there something I'm missing? I wish I could delete this match from my memory.
Buried!
7. Greenlight
Flo Rida is Mr. WWE at this point. He holds the record for appearing in the most WWE PPV themes. While WrestleMania 32's "My House" is an all time classic, "Greenlight" is hype personified. I basically wrote my past three articles with this song blasting. However, the live performance of "Greenlight" was absolutely dreadful. Low energy and high lip syncing made for an embarrassing display. The SmackDown tag titles couldn't even get mentioned, but we had to sit through this. Burial goes to LunchMoney Lewis for eating twenty too many lunches.
Buried!
6. John Cena & Nikki Bella's Engagement
The Miz has proven that everything he has said about John Cena is true. Cena proposing in front of a crowd of millions of fans may be the most superficial thing I have ever seen. Show some grace, show some humility and propose in your home. Do the cameras have to be on this man at every moment in time? Is he even a man? What is he, some mythical god? Even the most self-absorbed celebrities don't go out of their way to propose in front of a crowd on live TV. "Hustle Loyalty Respect"? What about "Humble, Humility, Not Being a Wanker"?
Buried!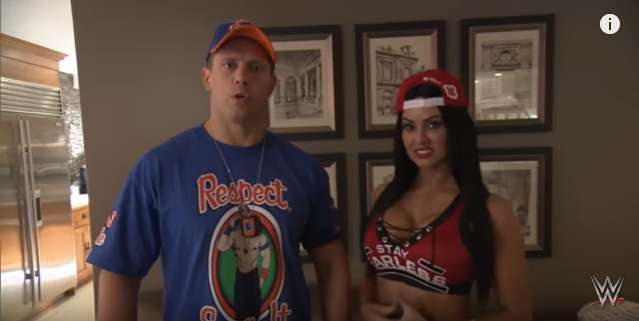 5. Stephanie's Table Crash
What exactly was the point of the hold harmless agreement between Triple H and Seth Rollins? They had a no-DQ match, nothing new. Was Rollins healthier than they originally thought? If it was no-DQ, where was Samoa Joe? Why did Stephanie trust-fall into a table? How does a wooden table knock people out? The point of the table is to enhance a move. Lightly falling through a piece of plywood shouldn't knock you unconscious.
Buried!
4. Jericho vs. Owens Finale
That was definitely a wrestling match. For as much I love the Chris Jericho character, I expected more brutality. This was more deserving of a hold harmless agreement than Rollins vs. Triple H. This was the best story coming into 'Mania, and instead of a fight, we got a professional wrestling match. For all of the animosity between these two men, I expected a war, not something you would see on an episode of RAW. Again, where was Samoa Joe? Maybe they'll beat the shit out of each other at Payback, but I don't think I can do another month of Jericho vs. Owens.
Buried!
3. The Boyhood Dream Comes True
Triple H's fifteen-year plan of making Randy Orton the next "cerebral assassin" has come to fruition, as Orton has successfully buried more young talent at WrestleMania than Hunter has ever dreamed about. I was stunned that Randy got the win here, continuing The Wyatt Family's 0-4 WrestleMania streak. However, this match was a master class, easily best match of the night. 5 Stars. While WrestleMania 33 is Buried! this match certainly is not.
But actually, the idea of an Orton match is always better than how the match actually turns out. This was a bore and is the worst title match I've seen since SummerSlam: Dean Ambrose vs. Dolph Ziggler.
2. Tian Bing
He was the WWE's obligatory Asian entrant into the Battle Royal. Sleep.
Buried!
1. Women
If you were a woman who was on this card, I am so sorry. Both title matches stank of half-baked booking. For example, they couldn't extend Charlotte's reign as champion and undefeated-on-PPV streak until WrestleMania 33? Imagine the pop Bayley would have received! I give credit to WWE for actually sticking to canon by reinforcing the fact that Sasha Banks only helped Bayley become champion because she was never allowed to challenge Charlotte again for the title. However, this is the same WWE that has had Sami Zayn fight Kevin Owens at least three times since their "final battle" in 2016, so who cares?
Meanwhile, on Smackdown, the same can be said for Naomi. Why not just hold her win off until WrestleMania? Or hell, hold out her return as a surprise final entrant in the women's match. Her winning and dropping the title to Alexa Bliss, only to win it back a few weeks later, was just lazy booking.
Buried!
Roman Reigns vs. Undertaker
I loved that match. Wow. That might go into the history books as my favorite match in terms of just pure storytelling. This was the antithesis of Brock Lesnar vs. The Undertaker in terms of the action in the ring, and the mindset of the fans. In Brock Lesnar vs. Undertaker, we all KNEW The Dead Man was going to continue his streak, but when it came to the match, he was quickly defeated by The Beast. Brock was brutal, confident, and remorseless. Meanwhile, the opposite was true for Reigns vs. Undertaker.
We all knew this would be the end of The Phenom. We all thought it would be quick, and Reigns would play up his cocky attitude and take Undertaker out, Old Yeller style. But no, Undertaker just kept getting up, and you can see Reigns start to get upset. Not because he doesn't have the power to put Undertaker away, but because he feels remorse of how far he has to go. He didn't think it would be so hard, mentally and emotionally, to finish him. Reigns feels the same way as the audience, as he knows Undertaker is finished. The most depressing scene in WWE history will be the Undertaker sitting up from lying on his back, and immediately falling to his side, symbolizing that The Undertaker as a character, is finished. The WWE blew me away with WrestleMania 33, Reigns killed it, and the Undertaker is immortal. I love WrestleMania 33.