When it comes to getting toys with your meal, the first thing that comes to mind is fast food and its famous product tie-ins. However, what if I told you that you could enjoy a first-class sushi experience while also getting some prizes while you eat? If it sounds too good to be true, it's not, courtesy of Kura Sushi and their revolving sushi bar.
Kura Sushi is the second-largest sushi chain in Japan behind Sushiro and ahead of Hama Sushi, with 543 eateries in Japan, 53 in Taiwan, 3 in China, and 54 in the United States, with more locations coming soon. In New York, there's a location in Flushing, Queens, and a new location will be opening soon in Lake Grove, NY. RAGE Works visited the recently opened restaurant in Carle Place, Long Island, to discover firsthand why Kura is such a unique experience, and one anime fans will enjoy more than their typical sushi place.
Service with a Smile and a Bot?
What sets this chain apart from traditional sushi restaurants is that it relies on automation, interactivity, and gamification. Drinks and certain special dishes are delivered by the Kurabot, a robotic server who travels to your table while offering a jaunty tune after you pick up your plate.
The majority of dishes make their way to you via conveyor belts positioned adjacent to your booth, with the lower belt bringing sushi staples like hamachi, tamago, and their signature rolls in their patented Mr. Fresh containers.
The upper belt delivers entrees such as ramen, udon, teppanyaki, and rice dishes, plus appetizers and certain desserts. Our colleague Matt from Nerd News Today ordered a ramen bowl, anticipating a server to deliver the dish since it was a soup. To our surprise, it showed up speeding down the concourse on the upper conveyor belt, covered with a proprietary lid to keep the ramen goodness warm and prevent any spills.
Hands-On While Keeping Hands Free
The interactive portion of the meal was the tablet, used to order entrees, drinks, and other meals or request the server if you need something in particular or require assistance. The tablet also served as a part of the gamification of the experience, providing entertainment between bites. This also leads to how the restaurant keeps your table clean through this automated process.
After scarfing down whatever was on your plate, patrons slide the empty dish like an air hockey puck down a slot to make room for more. Sometimes, this triggers a randomized cartoon to play, motivating you to add more dishes and eventually leading to a prize.
Every Kura location around the globe has a magic number of plates required to send a prize your way. For those wanting to get the prize, the magic number you'll be shooting for is 15. Once you slide your dish down and hit that special milestone, diners can look forward to a Kura-exclusive item navigating its way through a series of small, colorful slides attached above every table.
So what kind of prizes did we get? Each ball had small collectibles from Jujutsu Kaisen, such as bubble magnets, bottle holders, figurines, and other items. There's also an ultra-rare collectible that even some of the staff hadn't seen in person yet, incentivizing you to eat more, or at least until you're full… then come back again to try again! Empty plates are your currency, and the only way to stock up is to come on an empty stomach and bring friends.
Kura Sushi is known for its bikkura pon collaborations with names such as Hello Kitty and Sonic the Hedgehog, among other Japanese franchises. The manager informed us that there will be future collaborations with many other noteworthy properties that will inspire signature dishes.
What Does Conveyor Belt Sushi from Kura Taste Like?
Conveyor Belt sushi is a familiar sight in Japan, but many Americans might look at this with some hesitation. The first thing you need to know is that every item is made to order. Food doesn't sit around collecting germs but is constantly made by a team of speedy chefs whose goal is to expedite your meal as quickly as their hands let them.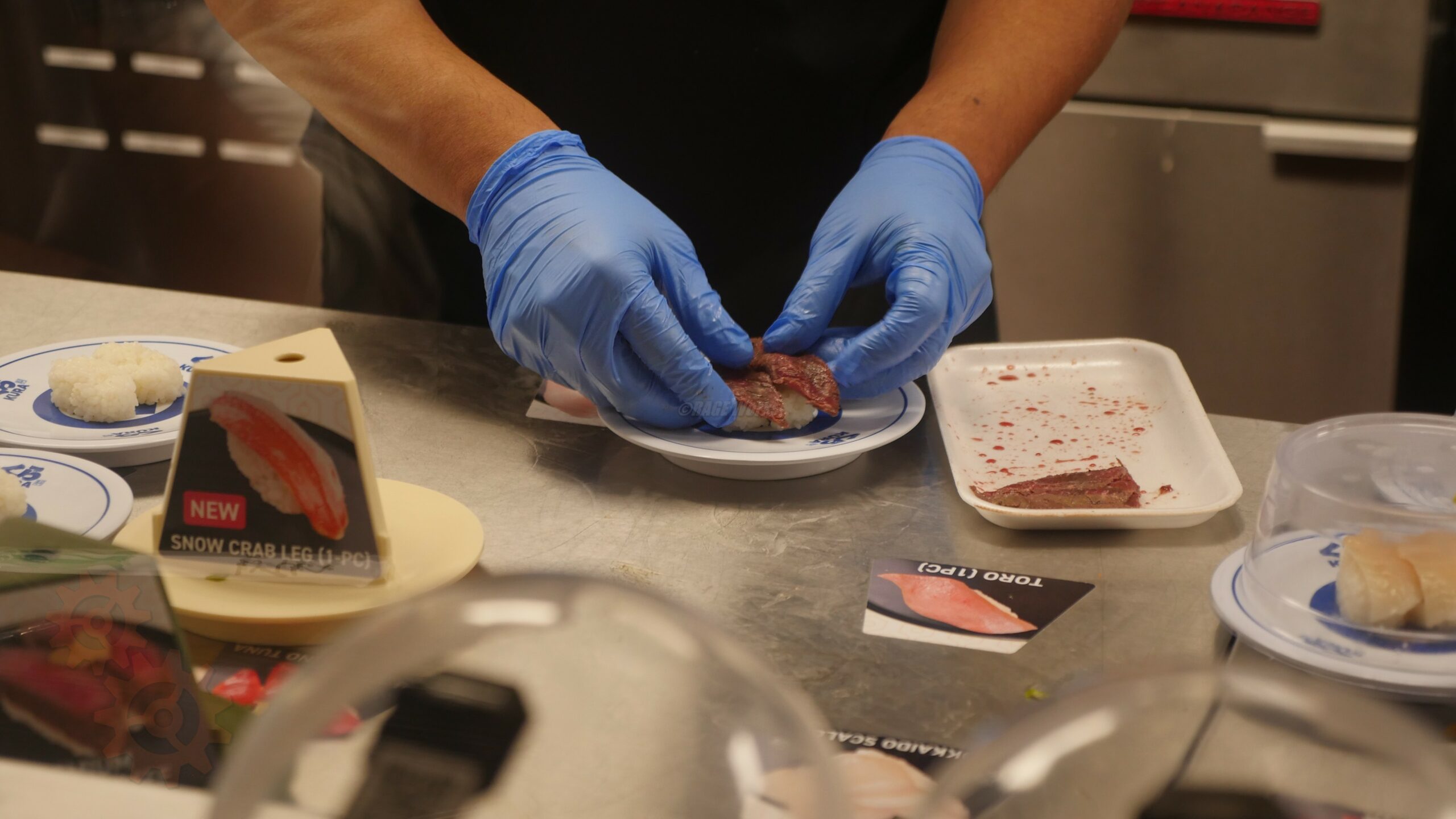 We tried as much sushi and dishes as our stomachs could handle—the things we do for our readers!
Kura has many rolls on their menu, including a wonderful Philadelphia roll with salmon, avocado, shrimp mayo, and cream cheese. If you're a fan of California rolls, Kura offers this one with real crab instead of the artificial kind, which makes a world of difference when it comes to taste.
The signature Kura roll was recommended to us, and it didn't disappoint. This roll consists of a combo of salmon, shrimp mayo, avocado, dried seaweed, and sesame, garnished with a lemon wedge. We suggest giving that lemon a squeeze to elevate the flavor and add a touch of acidity to this smooth-tasting roll.
The Nigiri was Matt's favorite menu to scoop up, and Kura offers a wide variety of seafood that many diners may have never tried before. The dashi olive oil sweet shrimp was mild and comforting, while the conch and octopus nigiri held a unique textural experience that went great with a dash of soy sauce. The Hokkaido scallops are must-haves, cool and sweet as candy.
Besides the nigiri and rolls, Kura also features other sushi staples like hand rolls with soy paper or seaweed, as well as hand-shaped gunkan, including inari, negitoro, sea urchin, and different types of Yukhoe.
One item we kept returning to was among the first we pulled from the conveyor belt. The cucumber and watermelon salad was refreshing and an excellent palate cleanser between the mouthfuls of sushi.
The manager of the restaurant was proud to let us know that Kura uses freshly ground wasabi and not powdered stuff, along with their delicious pickled ginger. If you've never had the real deal before, this wasabi will blow your mind while also cleaning out your sinuses.
The Tonkatsu Ramen we mentioned earlier was a modest amount of the signature soup that tasted on par with any ramen we've had before. The main difference is that the size is smaller than if you bought a bowl from a restaurant that specializes in ramen, but that is a purposeful choice to allow you to have your noodles and still try other small plates for the full Kura Sushi experience.
Make sure to leave room for dessert, including the creamy NY Cheesecake and the Hokkaido Milk Creamy Tart, which was similar to an egg custard with a soft caramel finish on top. The Warabimochi confused us for most of the night until we found out it was sweet, but once we tried it, we were hooked. There's always the taiyaki and ice cream if you want something in a fun shape to pick up with your hands and play with your food!
Pricing for the sushi, sashimi, and various rolls and deserts will run between $3.75 – $5.00, depending on the dish and location, and entrees made to order will vary. If you want a glimpse of the menu, head here. Note that some offerings may vary by location, but many of the traditional sushi staples are on the menu.
Final Thoughts
Our experience at Kura was a real treat, not only as sushi fans but as anime fans as well. The entire experience is very inviting and fun, regardless of age. While there is automation and robotics at play, there are still amazing servers and chefs hard at work, ensuring everything runs seamlessly. Our glasses were never empty, and our servers were not only super knowledgeable on the process but were having just as much fun as the patrons, which is truly great to see.
If you have a Kura Sushi in your area, we encourage you to give it a try. Kura will really hit the spot, more so for anime fans (and especially Jujutsu Kaisen lovers). While the wait may be long, specifically on weekends, it's worth it to have this authentic and modern experience that will keep your stomach full without emptying your wallet.
If want to learn more about Kura, you can head here: https://kurasushi.com/
RAGE Works nor Nerd News Today were compensated monetarily for our thoughts on Kura Sushi or their Jujutsu Kaisen collaboration.