Diamond Select is cranking out stellar and affordably priced collectibles truly offering something for every fan. This week Diamond Select has something for Marvel, and DC fans. Check out all the collectibles below and let us know which ones are on your radar.
Marvel
It's all about the X-Men this week with new statues, dioramas, and action figures coming your way. Let's get to the first one.
Marvel Comic Gallery Dazzler PVC Diorama
This '80s inspired Dazzler PVC statue looks great and would make a welcome to any X-Men fan's shelf. Statue measures approximately 9 inches tall, this PVC diorama was sculpted by Alejandro Pereira based on a design by Uriel Caton. Packaged in a full-color window box. SRP is $49.99 and you can purchase directly from Diamond Select here.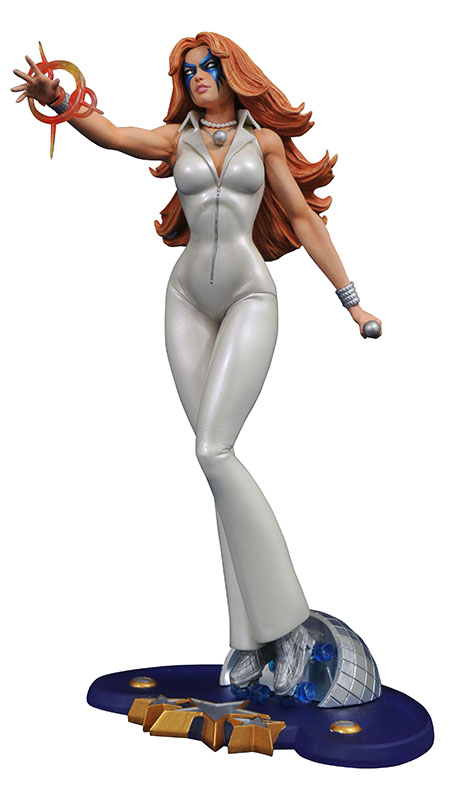 Marvel Select Psylocke Action Figure
This 90's style Psylocke is a stellar piece sculpted by the folks at Gentle Giant Studio and would look awesome alongside any of your other Marvel Select pieces. The figure has an SRP of $29.99 and will available at your local comic shop but you can also scoop it up from Diamond Select directly by heading here.
Marvel Wolverine '74 Statue by Gentle Giant
We reported on this line of statues awhile back and they are slowly trickling out to retailers. This statue from Gentle Giant captures Wolverine's look as shown in Old Man Logan Vol. 2 #21. The 1:8 scale statue comes with real metal claws and the hexagon base allows this statue to displayed perfectly alongside other statues from the Wolverine line. Each statue comes hand-numbered and includes a certificate of authenticity. The statue has an SRP of $159.99 and can be ordered here if you want to add it to your collection.
Marvel Cyclops Animated Statue
Cyclops is the 19th release in our popular Marvel animated statues and is based on the art from the variant comic book cover of Giant-Size Little Marvel AvX issue #1. Cyclops is decked out in his blue and gold X-Men uniform with a cool reflective visor. This adorable X-man is ready to take on your Magneto Marvel Animated Statue (sold separately) in a battle of cuteness! Each animated statue is hand-cast, hand-painted, and hand-numbered with a limited-edition Certificate of Authenticity. SRP is $64.99 and you can order your statue here.
DC
DC Comic Gallery Deluxe Dark Knight Returns Batman & Robin PVC Diorama
A Diamond Select Toys release! The Dark Knight returns! As seen in the classic Frank Miller mini-series, an older Batman teaches the finer arts of slingshot usage to his newest Robin, Carrie Kelly. This 9-inch-scale Deluxe PVC Diorama measures approximately 8 inches tall, is made of high-grade plastic, and features detailed sculpting and paint details. It comes packaged in a full-color window box. Designed by Shawn Knapp, sculpted by Alterton! The SRP on this stellar Batman piece is $69.99 and you can order yours here.