The Jackbox Party Pack 7 is out now! Hours of laughter and madness await you and your friends. Five different games await you including the return of the fan-favorite Quiplash. Depending which game you choose, up to 8 players can participate. Content creators will love that up to ten thousand (you read that correctly) can join the audience. Available for download on PC, Mac, PS4, Xbox One and Nintendo Switch, spice up your party tonight! Also available on Apple TV and mobile platforms, get your copy for $29.99 today!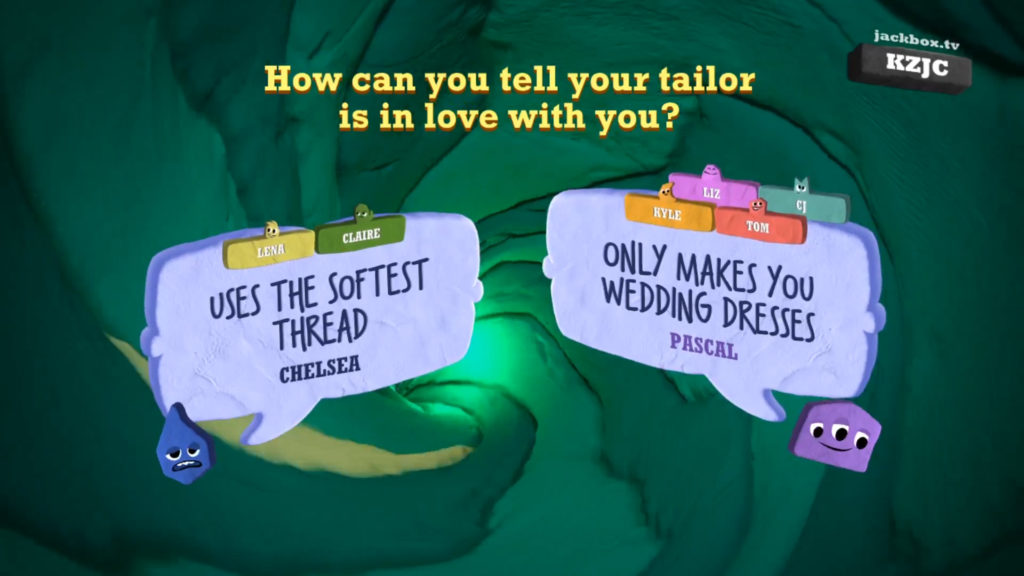 The Jackbox party Pack 7: New Games
The latest entry in the Jackbox series features five games to choose from:
Quiplash 3 – a head-to-head battle of wits as you write hilarious responses to quirky prompts while everyone else votes for their favorite! (3-8 players)
The Devils and the Details – the collaborative chaos game where you're a family of devils working together to survive in suburbia. Can you handle the daily torture of human life? (3-8 players)
Champ'd Up – the drawing/fighting game where you create absurd characters who battle each other over unusual titles. Can you take down the heavy favorite? (3-8 players)
Talking Points – the make-it-up-as-you-go public-speaking game. Give a speech while responding to picture slides you've never seen before or be the Assistant and approve pictures as fast as you can. Just keep talking whether it makes sense or not! (3-8 players)
Blather 'Round – the pop culture guessing game. Describe your secret person, place, or thing with a very limited vocabulary and hope that someone can figure it out in time. (2-6 players)
The Jackbox party pack 7 supports phones, tablets, and computers as controllers. Just go to Jackbox.tv on your device and enter the room code to play. Up to 10,000 additional audience members can join specific games to affect their final outcome.