In a world full of Pop! and blind box figures there are very few companies carving out their own niche like The Loyal Subjects. I had the pleasure of being introduced to the brand last year at Toy Fair and was blown away by their unique take on action figures. They merged the vinyl and action figure style effortlessly with their action vinyl figure line. The figures are a little over three inches tall and have up to fifteen points of articulation and include accessories and a collector card.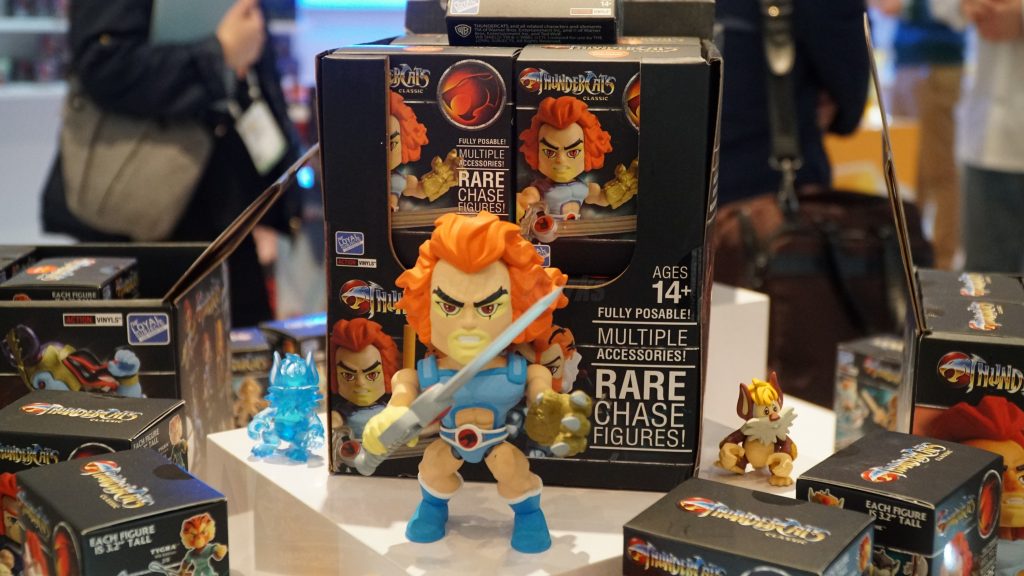 The Loyal Subjects is taking things to the next level going from a niche collectible seen in a handful of specialty shops to a more mainstream brand thanks to their newly announced partnership with Bandai America which will strengthen the brand's already expansive retail offerings.
The Loyal Subjects definitely has something for everyone and the ample licenses prove it. Their partnership with Bandai will definitely get the brand in front of more eyes and considering all the great licenses they will definitely be a brand to look out for in 2019.
Learn more about this new exciting partnership in the included press release below.
THE LOYAL SUBJECTS LAUNCHES STRATEGIC DISTRIBUTION
PARTNERSHIP WITH BANDAI AMERICA
Team's Efforts Focused on Expanding the Hyper-Collectible and Ever Popular Action Vinyls™ Statement at Retail
 The Company Will Debut 2019 Products at Next Month's
Toy Fair New York in Booths #5385 & #3103
Los Angeles, Calif. – (January 18, 2019) – The Loyal Subjects™ (TLS) – a collectible
toy company – is excited to announce the launch of a partnership with Bandai America which will turbo-charge TLS' expansion across the retail landscape.
TLS' signature Action Vinyls™ are a hybrid comingling of stylized features, artful and detailed deco from the Designer/Art Toy/Vinyl world, and the pose-able dexterity found in Action Figures; hence "Action Vinyls" – a cool "Vinyl-like" collectible with "Action" in the form of pose-ability and accessories. The figures stand at about 3.25", have up to 15 points of articulation, are accompanied by a collector card, and have interchangeable accessories. TLS pays homage to its collector base by including rare figures and "Easter eggs" in its product lines.
TLS is a Universe Without Borders™. From the first Action Vinyls offering, TLS' vision has been to create a world with no rules, just synergistic fun and collaborative comingling. So an accessory from He-Man™ can also fit the hands of the Teenage Mutant Ninja Turtles™ and a hero from Megaman™ can battle a villain from Thundercats™ – the walls have been torn down, and the inmates have taken over! Not
all collectible figures are treated equal, unless they're from TLS. TLS has sold millions of units worldwide and Action Vinyls are a toy industry disruptor. 
"TLS and Bandai truly believe we can build a $100 million dollar brand together," said Jonathan Cathey, The Loyal Subjects' Founder/CEO and President. "All the key ingredients are there – quality, fun, accessibility, story-telling, creativity, and artful execution. We are seeing an increasing desire to join the TLS mission by
collectors from all corners of the globe, and an explosive interest in the application of pop culture to the TLS army building experience. It's a perfect recipe, and we look forward to building significantly at retail to showcase our unique, beloved, and killer quality format – Action Vinyls. With the Bandai and TLS partnership, sky's the limit."
Added Michael Ciminera, Bandai America's Senior Vice President, Sales, "Vinyl collectibles is a huge growth category in the industry right now. We believe TLS brings a unique product to the market with their Action Vinyls and robust licensing line up. We are thrilled to be able to help grow this brand at retail."
TLS is stacked with a wide range of popular and evergreen licenses crossing all genres: Anime, TV, Movie, Super Hero, Classic and Nostalgia, Horror, Fantasy, Cartoons, Video Game, Mobile Game, and Action Adventure. TLS is set to release a variety of offerings each quarter, including online and convention exclusives. TLS products are currently sold in a wide range of retailers including Hot Topic, GameStop, Target, Walmart, Box Lunch, Barnes & Noble, Books-A-Million, FYE, 7-Eleven, Walgreens, and independent toy, hobby and comic book stores.
About The Loyal Subjects
Born in 2009, The Loyal Subjects™ (TLS) has infused collectible toys with the art, quality, nuances, details and value its loyal fan base of collectors expect. Best known for its Action Vinyls™, a proprietary form of collectible figures, The Loyal Subjects creates unique products based on licensed properties from partners including Capcom, Fox, Funimation, HBO, Mattel, Nickelodeon, Sanrio, Sony, Viz Media, Warner Bros, and WWE. For more information on The Loyal Subjects please visit www.TheLoyalSubjects.com.
TLS' mission? "Building rich experiences for collectors through dynamic products that
stay true to a creative spirit." In the licensed collectibles world, TLS collectors have adopted play where they were only being offered display.
About Bandai America Incorporated
Bandai builds on dreams, adds to the fun, and strives to inspire kids of all ages around the world, every day! A leader in developing engaging, quality toys that capture children's imaginative spirit and provide endless "Fun For The Future," Bandai America Incorporated is the manufacturer and master toy licensee of some of the most popular brands in children's toys and interactive entertainment today. The Bandai America brand family includes PacManTM, Dragon Ball®, Godzilla and Tamagotchi®, among other boys, girls, preschool, and hobby product lines. Bandai America Incorporated is a subsidiary of BANDAI NAMCO Holdings USA Inc., an entity that resulted from the integration of Namco Ltd. and Bandai Co. Ltd. of Japan. Global interests encompass three strategic business units: Toys and Hobby, Video Games and Online Entertainment and Film and Music. The company is headquartered in El Segundo, California. Find out more about our expertise in connecting with kids in fun and fresh ways at www.Bandai.com.
The Loyal Subjects will be at Toy Fair 2019 and will have new products on hand to showcase this new partnership in addition to their own booth they will also have a presence at the Bandai booth as well so keep it locked to RAGE Works for more news regarding this new and exciting partnership.