Black Panther hit theaters in less than two weeks and the buzz surrounding the film is at an all-time high and our friends at Mezco are adding to the buzz with Black Panther being the latest addition to their highly detailed One:12 Collective line. This version of Black Panther is straight from the film and captures the likeness of Chadwick Boseman's T'Challa perfectly.  The figure is super detailed and includes a ton of great accessories and as usual comes in the collector friendly One:12 Collective packaging. Check out the figure and its accessories below.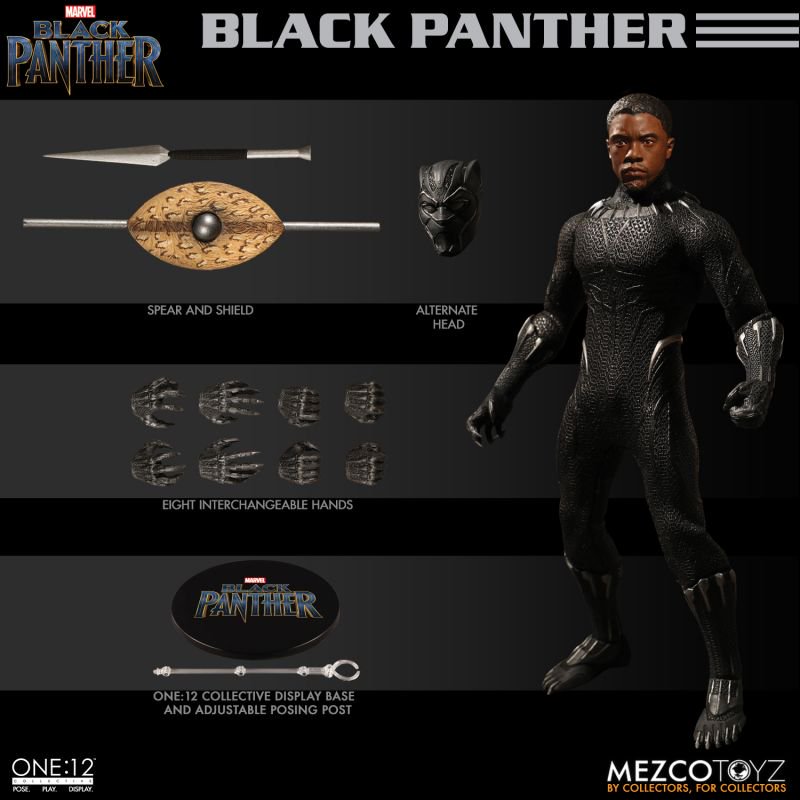 THE ONE:12 COLLECTIVE BLACK PANTHER FIGURE FEATURES:
One:12 Collective body with over 30 points of articulation
Two (2) head portraits

Masked head
Unmasked head

Hand painted authentic detailing
Approximately 17cm tall
Eight (8) interchangeable hands

One (1) pair of fists (L&R)
One (1) pair of holding hands (L&R)
Two (2) pairs posing hands (L&R)
COSTUME:
Film-accurate masked head
Unmasked head featuring the likeness of actor Chadwick Boseman
Intricately detailed cowl
Authentically designed gauntlets
Impeccable belt detailing
Skillfully executed boots
ACCESSORIES:
One (1) shield
One (1) spear
Each One:12 Collective Black Panther figure is packaged in a collector friendly box, designed with collectors in mind. There are no twist ties for easy in-and-out of package display.
Fans looking to get their hands on this figure will sadly have to wait until later this year but preorders are open now. Head here or here if you want to get your hands on this figure.