Blade the vampire hunter is the latest Marvel addition to Mezco's One:12 Collective line and the folks at Mezco did a stellar job capturing the daywalker in all his glory. The figure uses elements from Blade's comic book roots but also uses a bit of Wesley Snipes interpretation of the character. Fans will get all of the trademark weapons and accessories that are synonymous with the character including a customized submachine gun with removable magazines, a pump action shotgun, his signature sword with removable sheath, collapsible throwing blades, striking stakes, and of course, sunglasses. Check out some photos of the figure below.
What goodies can fans expect to see when this figure is released? Let's get to the specs.
THE ONE:12 COLLECTIVE BLADE FIGURE FEATURES: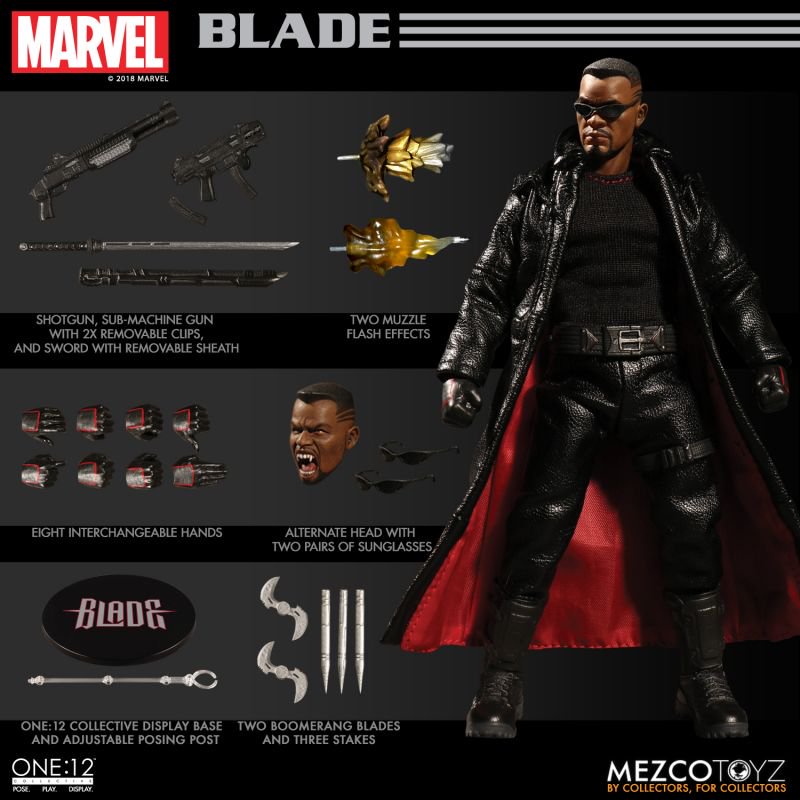 One:12 Collective body with over 30 points of articulation
Two (2) head portraits
Hand painted authentic detailing
Approximately 16 cm tall
Eight (8) interchangeable hands

One (1) pair of fists (L&R)
One (1) pair of sword-holding hands (L&R)
One (1) stake holding hand (L)
One (1) gun holding hand (R)
One (1) pair of posing hands (L&R)
COSTUME:
Tailored trench coat with integrated wire for dynamic posing (removable)
Three-quarter sleeve t-shirt
Motorcycle pants
Belt (removable) with throwing blade sheath harness
Thigh harness for stakes
Work boots
ACCESSORIES:
One (1) customized submachine gun with two (2) removable magazines
One (1) customized shotgun with pump action movement
One (1) sword with removable magnetic sheath
Two (2) folding throwing blades
Three (3) stakes
Two (2) pairs of removable sunglasses
One (1) blast gun effect
One (1) firing gun effect
Each One:12 Collective Blade figure is packaged in a collector friendly box, designed with collectors in mind.
Fans looking to pre-order this figure can head here. Delivery is expected between September-October 2018 but as is the case with most Mezco releases it can be earlier.