Updated: 12/15/17
Black Friday & Cyber Monday have come and gone, and the holiday gift shopping season is officially in full swing. We have a little something for everyone who is looking for gift ideas because we cover a little bit of everything!
Let's get the ball rolling with some gaming stuff.
Consoles
Nintendo Switch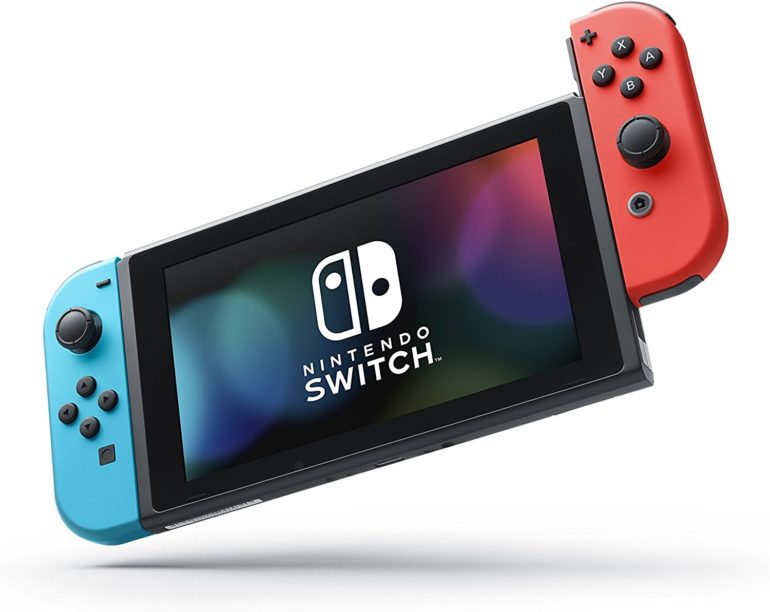 The Nintendo Switch has slowly become my favorite console this holiday season because of how travel-friendly it is and the increasing library of enjoyable titles. While there is still some difficulty when it comes to purchasing, retailers are restocking the console quite frequently this holiday season. On Black Friday, we saw our local Best Buy and Target have ample units in stock. Price: $299 Buy
Xbox One S
You're probably looking at this a bit puzzled wondering why the Xbox One S is recommended over the Xbox One X. I can honestly say it is because of the price point and the fact that the feature set between both systems in quite similar. While I did replace my launch model Xbox with a One X, I did originally intend on getting the Xbox One S. You get all the Xbox One X bells and whistles including a capable Ultra HD Blu-ray player for, in some cases, half the cost. If you're gift giving but want to have some money for games and maybe some 4K Blu-rays then the One S is our pick. If you're splurging or just want to have the bleeding edge tech then you'll have the One X in your sights. Price: $499 Buy
PlayStation 4 Pro
Our very own Slick recommended the PlayStation 4 Pro as his console of choice this holiday season. Here's what he had to say: "Sony still holds the top spot and gives hardcore gamers what they want most: competition and bragging rights. Extensive library and free games every month with PS+ Strongly recommend any forward thinking gamer go with the PS4 PRO over the PS4 Slim." Price: $399 Buy
Games 
There are a ton of great games out there for all the consoles, but we are going to recommend some that we feel are noteworthy either because they're fun or because they have replay value. Some may even have a bit of both.
Super Mario Odyssey
Super Mario Odyssey is an easy recommendation because it perfectly captures the nostalgia of past Mario games while also adding new characters and elements to keep things fresh. Mario's companion Cappy adds a new level of gameplay and looks to be a companion we'll be seeing for quite some time. While the "Save the Princess" trope remains standard issue, the gameplay and enjoyment are definitely not. Price: $59.99 Buy
Assassin's Creed Origins
Assassin's Creed heads back to the beginning with Assassin's Creed Origins and breathes new life into what was slowly becoming a stale franchise. Gamers get a compelling character who brings a few new tricks to the game. The dreaded control scheme of past games also gets some notable improvements and while there is a bit of a learning curve to master, it does not take a newcomer long to grasp. Players get an immersive story coupled with breathtaking graphics and ample replay value thanks a ton of side missions. This game saw quite a few sales on Black Friday and Cyber Monday and there will surely be more this holiday season. Assassin's Creed Origins is available on both PlayStation 4 and Xbox One. Price: $59.99 Buy
Middle-earth: Shadow of War
Middle-earth: Shadow of War was showcased in our Black Friday recommendations and even our very own Quark scooped up a copy. The follow-up to Middle-earth: Shadow of Mordor continues the trend established by its predecessor with a great story, amazing visuals, and unique gameplay. If you missed Shadow of Mordor you should definitely pick it up along with its sequel. While the Black Friday deals were probably the best price for the Gold Edition, you may still get lucky this holiday season and snag one for a comparable price. Middle-earth: Shadow of War is available on both PlayStation 4 and Xbox One. Price: $59.99 Buy
Cuphead
Amazing visuals and frustrating gameplay are the easiest way to describe this unique title that is easy on the wallet but a must play for both Xbox One and PC. Gamers not only can destroy their controller after the insane boss battles, but can do so alongside friends thanks to the local co-op mode. Scream furiously at the TV this holiday season courtesy of Cuphead. Price: $19.99 ReviewBuy
Yakuza 0 & Yakuza Kiwami
Slick has been saying nothing but good things about the Yakuza series and it deserves to be on your radar too – but don't just take it from me. Here's what Slick had to say about the game: "Yakuza 0 & Yakuza Kiwami are technically 1 game that begins the tale of Kazuma Kiryu. Over 200 hours of gameplay between the games and you may be able to score both together for less than the price of a single game this holiday. Guaranteed entertainment!"  Yakuza 0 ReviewYakuza Kiwami Review
Slick also had some additional gaming recommendations that are deemed worthy of your consideration this holiday season. Those games are:
Persona 5
Tekken 7
Final Fantasy XII Zodiac Age – Read Slick's review here.