The WWE 2K series always makes a themed special edition version of their titles for gamers and hardcore fans, and WWE 2K19 will be no different as 2K announced today a special Ric Flair-themed edition aptly titled WWE 2K19 Wooooo! Edition. This special edition honors the 16-time World Champion and Hall of Famer and comes loaded with bonus content, memorabilia and much more. The PlayStation 4 and Xbox One versions will retail for $129.99 and will be limited to 30,000 copies.
Here is a full breakdown of what is included in the Wooooo! Edition as well as what the set will look like.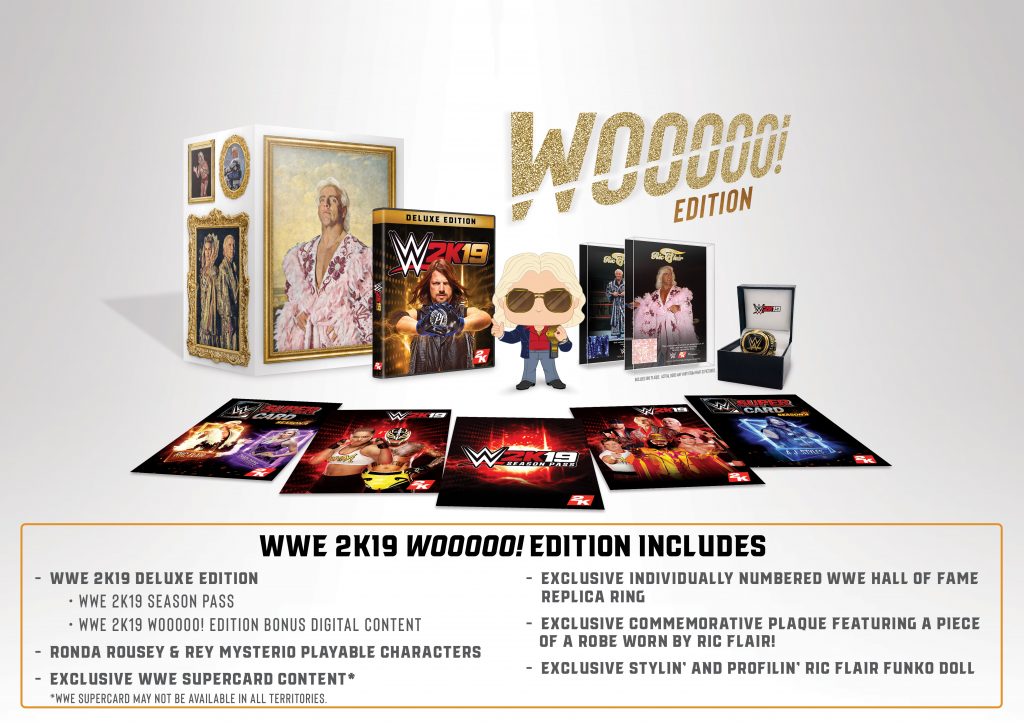 The WWE 2K19 Wooooo! Edition will include:
A copy of WWE 2K19 Deluxe Edition, which includes the following items:

Access to WWE 2K19 Season Pass digital content (details announced this summer);
Exclusive '80's-inspired playable WWE Hall of Famers: "Rowdy" Roddy Piper, Dusty Rhodes and Ricky "The Dragon" Steamboat;
Exclusive playable characters: "Macho Man" Randy Savage (WrestleMania® VIII) and Undertaker (2002);

Exclusive playable arena: Starrcade 1983;
Exclusive in-game attire: Ric Flair (WrestleMania 24 robe) and Charlotte Flair (WrestleMania 32 robe);
Access to WWE 2K19 pre-order bonus digital content (playable Rey Mysterio "Royal Rumble 2018" character and playable Ronda Rousey "WrestleMania 34/'Rowdy' Roddy Piper-inspired" character);
WWE® SuperCard limited edition cards featuring WWE 2K19 cover Superstar AJ Styles, as well as an AJ-themed WWE 2K19 card back.

Exclusive premium packaging;
Exclusive and individually numbered WWE Hall of Fame replica ring;
Exclusive "Nature Boy"-inspired Funko Pop! figurine;
Fanatics limited edition commemorative plaque featuring a fabric piece from Ric's iconic pink or purple robe;
WWE SuperCard limited edition cards featuring Ric and Charlotte Flair, as well as a Ric-themed WWE 2K19 card back.